You know the drill! Erika, Andrea, Narci, & I are linking up and giving you our Friday Favorites!
Today is all about SUMMER!  
Technically it's still Spring, but it sure feels like Summer here in Texas!
I'm pregnant but that doesn't mean I'm going to be sitting still.
I have kids who are ALWAYS ready to do something….No really!
They literally wake up asking, "What are we doing today?"
So here are a few of our SUMMER plans and items that we will be using:
#1 Noah's Ark Pool at Quillian Center
Summer is not really Summer if water isn't involved.  My kids are in love with being in the pool, so next week we will be visiting Noah's Ark pool.  It's so cute and fun for kids.  There is also a bigger pool for adults and youth to enjoy if the Noah's Ark Pool is not right for you.  Check out the post I did about Noah's Ark Pool HERE! Also see this place live in action HERE! I guess I better go shopping for a maternity swimsuit….Mama wants to get in on the action too! 😉
#2 Sandals, Sandals & More Sandals
I love wearing cute sandals, especially after my daughter and I have gotten pedicures.  Kendall's 7 and loves her toes to look pretty.  Summer just wouldn't be complete without a few lovely pair of sandals.
Here are 2 pair that Kendall will be wearing: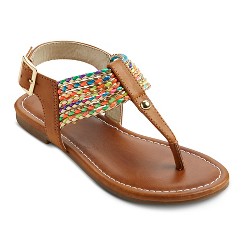 I found these Girl's Cherokee® Fate Gladiator Sandals at Target.  They are on sale for 20% off…Get them HERE.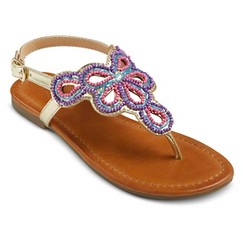 I also found these Girl's Cherokee® Frances Beaded Thong Sandals at Target.  They are also 20% off…Get them HERE.
Here are 2 pair that I will be wearing: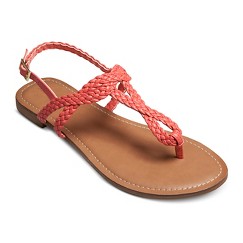 Also from Target…these Esma Braided Sandals are so comfy!  I actually have them in white and in pink as well.
Yes, they are on sale too!!  You can get them HERE.
I fell in love with these Michael Kors 'Aubrey' sandals from Nordstrom.  I splurged a bit on these. 🙂
You can get them HERE.
#3 Popsicles
Who doesn't love a nice cold Popsicle when it's extra hot out??  In my house popsicles are a staple must buy item.
The kids share them with their friends and my husband does a lot of the eating them too!
#4 Sidewalk Chalk
Let me be honest….My kids go through sidewalk chalk as if it were nothing.  Whenever we bring it out all the kids on out street make their way to our house.  Before you know it…We have a sidewalk chalk party going on.  The kids end up personalizing our entire driveway with their works of art.  It's all fun and the kids get a kick out of it, so no harm there.
#4 Birthday Parties
Our June is FULL of birthday parties, some weekends have multiple parties.  I'm going to be one tired Mama!
That's all I have for now!  See ya next time!